After watching large-cap tech stocks zoom higher over recent months, don't you wish you could jump in your time machine and buy these stocks last year?
Or even a handful of months ago, as investors bailed out on tech stocks after values had fallen by 50%, 70%, or more.
Let's use this as a lesson to buy stocks that investors currently hate…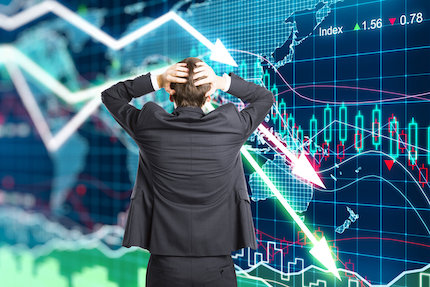 It is hard to believe that 2022 was a bear market for tech stocks, with steep price declines. Let's look at some numbers for a few stocks investors hated last year. Share prices peaked in late 2021 and bottomed in October 2022. Yes, the bear market lasted for almost a year.
The Invesco QQQ Trust (QQQ) lost 38%.
Microsoft Corp. (MSFT) dropped by 39%.
Alphabet Inc. (GOOG) fell by 45%.
Tesla Inc. (TSLA) lost 75%.
Meta Platforms Inc. (META) dropped by 75%.
NVIDIA Corp. (NVDA) fell by 69%.
And yet, these are the same large-cap stocks that investors love this year.
There are a couple of essential points to understand. Most of the 2022 bear market losses had occurred by May. Absolute lows were hit in October and November. Prices didn't start a serious recovery until January. As a result, the stock market felt ugly for eight to nine long months.
Percentage changes can be funny. The most a stock can lose is 100%, but there is no upside for a stock that goes to zero. From a 50% loss, it takes a 100% gain to return to the previous high. It takes a 300% gain to recover from a 75% loss.
Here are the results for the listed stocks since the low prices set last year:
The Invesco QQQ Trust (QQQ) is up 38%.
Microsoft Corp. (MSFT) has gained 55%.
Alphabet Inc. (GOOG) has gained 45%.
Tesla Inc. (TSLA) has rocketed 85% higher.
Meta Platforms Inc. (META) is up 198%!
NVIDIA Corp. (NVDA) has ridden the AI craze for 273% appreciation.
To make these types of gains, you needed to invest when these stocks were not the ones everyone wanted to buy. Buying and owning these stocks when the market was selling off also required patience. As I noted above, these stock prices bounced along near the bottom before starting a sustained uptrend. There were several false starts to the tech sector bull market that began in earnest in March.
The gains for the large-cap tech stocks listed above are in the past. You must look at out-of-favor sectors and industries to get in on the next sector-centric bull market. Here are three that may provide superior returns over the next couple of years…
Banking/finance is an obvious choice. Regional bank share prices have been hammered following a couple of high-profile bank failures. The iShares U.S. Regional Banks ETF (IAT) has lost 30% in the last few months and is down 50% from the late 2021 peak. IAT is an excellent way to play the regional banks. The fund also yields over 4%.
Business development companies (BDCs) offer a different type of investment in the finance sector. BDCs don't have to worry about deposits, plus they use little debt and benefit from higher interest rates. Hercules Capital (HTGC) currently yields over 11%. And, the company pays supplemental dividends. The HTGC share price of $14.70 is 1.35 times the book value—and the book value is growing. Historically normal pricing would be at 1.5 times or higher.Real estate investment trust (REIT) share values participated in the 2022 bear market, and they have continued to fall in 2023. Specific REIT sectors (office, medical) do face challenges. However, well-run companies also have tremendous opportunities to take advantage of distressed property owners. Simon Property Group (SPG) trades for $103, yielding 7.2%. This was a $180 stock before the pandemic. Investors have not yet discovered that business is very good for Simon.
This post was originally published on InvestorsAlley