Last week, when ONEOK Inc. (OKE) announced it would acquire Magellan Midstream Partners LP (MMP) in a $18.8 billion deal, the market disliked the news and the stock dropped by 10%.
The market is wrong about this tie-up.
I can prove it with one word…
ONEOK is an energy infrastructure company focused on natural gas and natural gas liquids. The company provides gathering, processing, and transporting services. Magellan Midstream Partners owns a pipeline network that primarily transports crude oil and refined products. There is little or no overlap between the services provided by the two companies. The combined company will offer a much broader range of services than either would as a standalone. Also, ONEOK is organized as a corporation, and Magellan is a master limited partnership.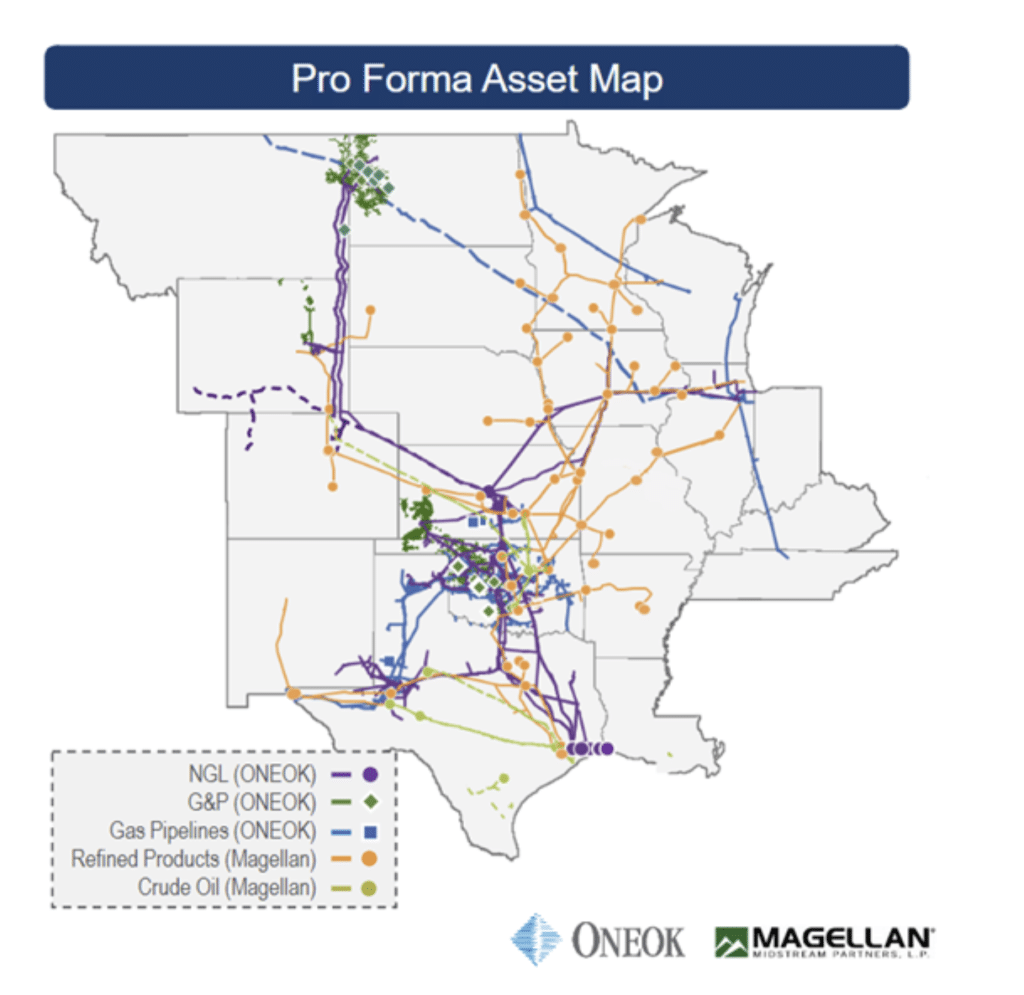 The deal, which was announced Sunday night, is a cash and stock transaction, with Magellan unit holders receiving $25.00 per unit in cash plus 0.6670 shares of OKE. The implied value as of May 12 was $67.50 per MMP unit. The MLP closed that Friday at $55.41.
ONEOK is on the list of recommended investments for my Dividend Hunter service, and I was pleased to get the press release announcing the deal. However, the market was not of the same mindset. OKE closed on May 12 at $63.72, and at the close on Tuesday, May 16, the stock price was at $56.58, giving an 11% decline over the two days. I suspect the amount of OKE shares given per MMP unit may be adjusted.
As I read the press release and reviewed the presentation slides, one word shows the power of this deal for OKE investors: "accretive," meaning "adding to."
In its current form, ONEOK is a very well-managed energy midstream company. The shares yield about 6.5%, and earnings and cashflow will increase for 4% to 6% dividend growth. The press release notes these benefits of the Magellan acquisition:
The transaction is expected to be earnings per share accretive beginning in 2024, with an accretion of 3% to 7% per year for 2025 through 2027.
Free cashflow (different from EPS) accretion is expected to average more than 20% from 2024 through 2027.
Free cashflow after dividends and growth capital investments will increase by about $1.0 billion yearly in the first four years after the merger.
Bottom line: The combined company will generate tremendous and growing free cashflow. That should lead to strong dividend growth. ONEOK has a history of dividend growth. The current rate is 28% higher than the dividend declared after the company rolled up its controlled MLP in 2017.
I will be looking for high single-digit to double-digit dividend increases starting next year. If you buy shares of OKE now, you will be happy with the investment for the next decade.
Retiring well doesn't have to be complicated. Forget "buy and hold" investments… forget options… forget Bitcoin…
One stock is all you need. And it's not a blue chip stock like Wal-Mart. Over your entire retirement, you should see over $1 million hit your bank account thanks to this stock.
If you're serious about a retirement with less financial worries, this #1 stock is your secret weapon. The first payout of the $1 million is days away.
Click here before you miss the window
.
This post was originally published on InvestorsAlley