The declines continue as the S&P 500 and Nasdaq Composite both finished down last week by 2.7% and 3.3%. This three-week pullback has been relatively shallow for the time being, while doing little damage to the technical picture. With both indexes still at or above their 200-day moving averages and the 50-day moving average still above the 200-day moving average on the S&P 500, this creates a positive development for the market.
However, while the short-term picture has improved since the January lows, this recent strength has not yet translated to an improvement in the bigger picture, with both indexes remaining below their 20-month moving averages.
The first confirmatory sign of this breadth thrust would be a monthly close above the 20-month moving average for the S&P 500, or around 4220, pushing the S&P 500 back onto a bullish reading.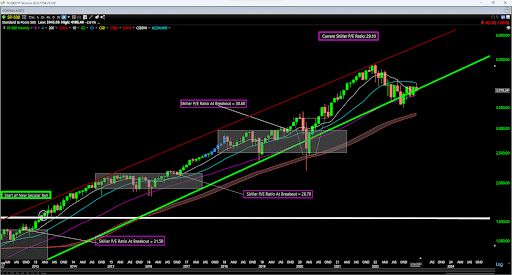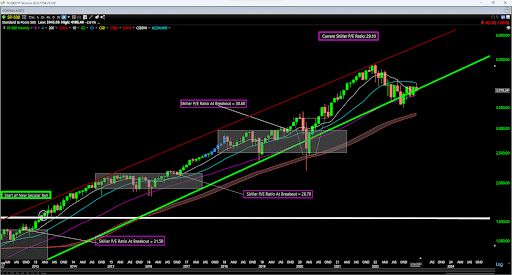 (Source: TC2000.com)
Earnings reports made the major headlines of the week as Domino's Pizza (DPZ) missed earnings estimates on weaker-than-expected sales results, while Nvidia (NVDA) and Alibaba (BABA) posting blowout earnings results, dulling the sting from misses in other sectors. While the Nasdaq Composite underperformed the S&P 500 last week 8.9% compared to 3.4%, offering a healthy sign to investors.
As highlighted in past updates, we saw a very rare breadth thrust (only 27 prior signals since the 1940s) on January 12th that triggers when the advancers/decliners ratio (summed 10-day average) goes above 1.98, which takes extreme buying pressure to occur. This signal has a strong track record with positive returns 88% of the time over the next 12 months, a 16% average 12-month forward return, and no undercuts of a previous major low (3500 in this case) over the next 6 months.
Sharp pullbacks in the S&P 500 are possible and often occur during the first three months following breadth thrusts. However, they are typically brought up near the 9% decline mark on the S&P 500 if they do decline to this magnitude (current pullback at 6%).
So, if this pullback reaches the ~3800 level, this would stack the odds sharply in favor of the bulls. I have shown statistics on the historical performance of all breadth thrusts below, and as we can see, historical performance would suggest a high probability that the S&P 500 heads to at least 4400 and up to 4650 by year-end.
So, What's Next?
Following the sharp pullback last week, the S&P 500 has dropped below the midpoint of its short-term support/resistance range (3765 to 4315), and has a current reward/risk ratio of 1.68 to 1.0 based on 205 points in potential downside to support and 345 points in potential upside to resistance. This reward/risk is still below the 5.0 to 1.0 or higher reward/risk ratio I prefer to justify going along the index, but as noted in past updates, I am already long the S&P 500 from ~3920 following the breadth thrust.
If the S&P 500 were to decline below 3800, where it would trade in the bottom 1.5% of this range, I would view this as an opportunity to top up exposure a little, and this would also offer a favorable area to add more exposure to individual stocks, assuming one is rigid with stock selection. This means focusing on the best businesses that ideally have strong balance sheets and are generating free cash flow given that these companies can be opportunistic if things get ugly, either defending their stock by buying back shares or through M&A transactions.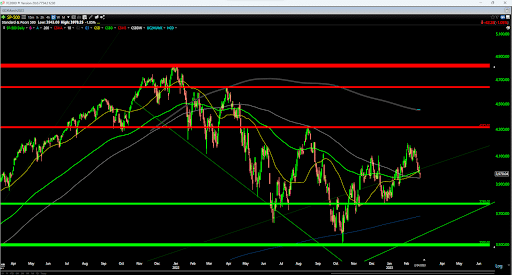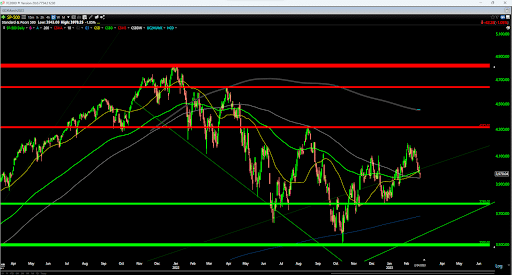 (Source: TC2000.com)
For now, I continue to see patience as the best course of action and I continue to hold 30% cash while remaining 70% invested.
That said, I have been taking some profits in names that have significantly outperformed the market, including taking additional profits in Crocs Inc. (CROX) highlighted at $75.40, Builders FirstSource (BLDR), which was highlighted at $57.90. I have also exited my position in Dutch Bros (BROS) which was highlighted at $31.95 for a small gain, a name where the investment thesis is deteriorating a little following results that continue to miss my expectations. In this week's update, we'll look at a small-cap name in the Leisure Products industry group that recently cut its FY2023 guidance, but this looks more than priced into the stock at a low single-digit PE ratio.
This post was originally published on Wealthpop